Woodwind double bass fun!
Contrabass clarinet in Bb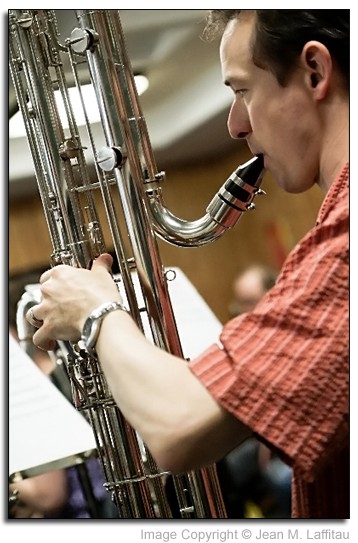 The Bb contrabass clarinet - sometimes called the double bass clarinet - is the lowest pitched clarinet that has gained a somewhat widespread acceptance. There are even lower pitched clarinets, but they seem to exist only in museums or fairy tales.... I'd like to play one of those, however.
The B-flat contrabass clarinet is mostly used in clarinet choir literature; however, there is more and more wind band literature which makes use of either the Eb or Bb contrabass clarinets. Typically you'd find contrabass clarinet scores in wind band pieces starting at difficulty grade 5. One of the most prominent examples which features a contrabass clarinet, is the piece "Fantasy Variations on a Theme by Paganini" by James Barnes. Barnes uses the variation technique to showcase every solo instrument and/or every instrumental section of the modern wind band - which, thankfully, includes the contrabass clarinet. While Barnes originally wrote the solo section for the Eb contra, I played it on the Bb contra. Sounds nicer and allows to avoid an octave jump. Curious? Well, here is a contrabass clarinet MP3 sound clip taken from a live recording from 2005.

The model on the pictures on this is a Leblanc 340 'Paperclip' model from the 1980's, which extends to the noted low C, which corresponds to the Bb at 29.27 Hz. WARNING: When playing these low notes, your vision may be blurred due to the vibrations shaking your skull. There is definately some addiction potential here! And it can provide a lot of fun with sound engineers, too: wait till he's doing the sound check, lean back and play the noted low A on your trustworty BBb contrabass tool, at a very convenient mezzopiano level, for a couple of minutes using circular breathing. That simulates a nice 50 Hz mains hum which makes the sound guys go absolutely nuts :-)
And just to mention it: the B-flat bass clarinet has also a solo in Barnes' Fantasy Variations, and here the Bb clarinets take over towards the end. Here is a bass clarinet MP3 sample from the same recording, if you are interested.
If you want to read more about those beasts (the instruments, not the people!!), or if you're a bass maniac, here are some links that may interest you: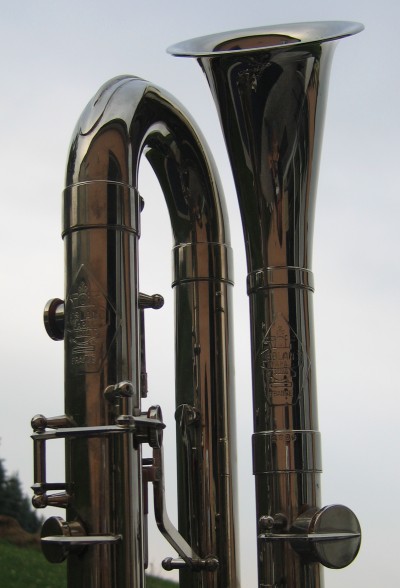 Should you have any question, feel free to contact me using this form.
On the two older pictures from 2001, you see me with an equally low-pitched friend playing the contrabassoon. The lower, the better. Note that the contrabassoon is roughly twice as long as the clarinet. This is because the clarinet is a cylindrical stopped pipe, which has a resonant frequency half of what an open pipe of the same lenght would have.
Contrabass clarinet in Bb & Contra bassoon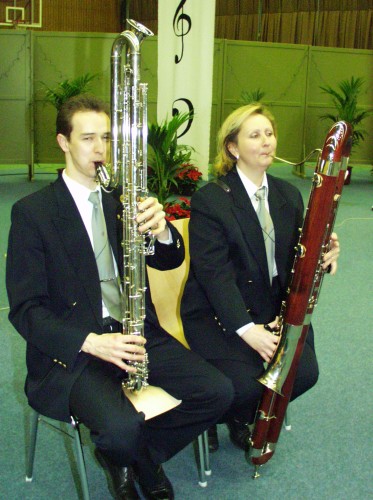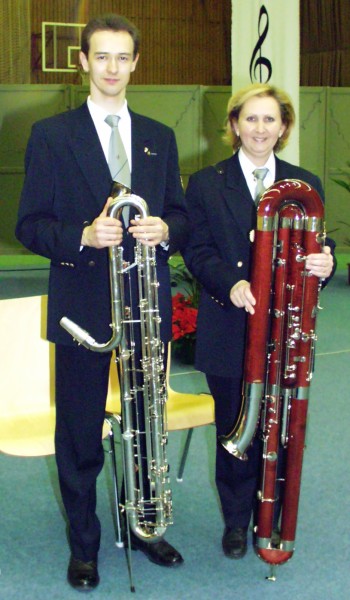 ---